Go To:  Products–>Cloned Product
If you ever duplicate a Murphy's product you MUST DELETE the Internal ID of that duplicated product. Failure to do so will break the synchronization of your website with Murphy's.  There should be NO Internal ID field.

When creating a duplicated product open the Custom Fields section and delete the Internal Id field completely.
Be sure to create a unique SKU. You cannot have duplicated SKUs. The SKU is found on the Inventory tab of Product Data.
Because this is now a Non-Murphy's product it will be automatically tagged as Non-MMS during the nightly processing.
Remember that any Non-Murphy's products you sell do not get added to your sales order at Murphy's. You will need to order these products manually by contacting your Murphy's rep. (Don't have more than one open sales order at Murphy's.)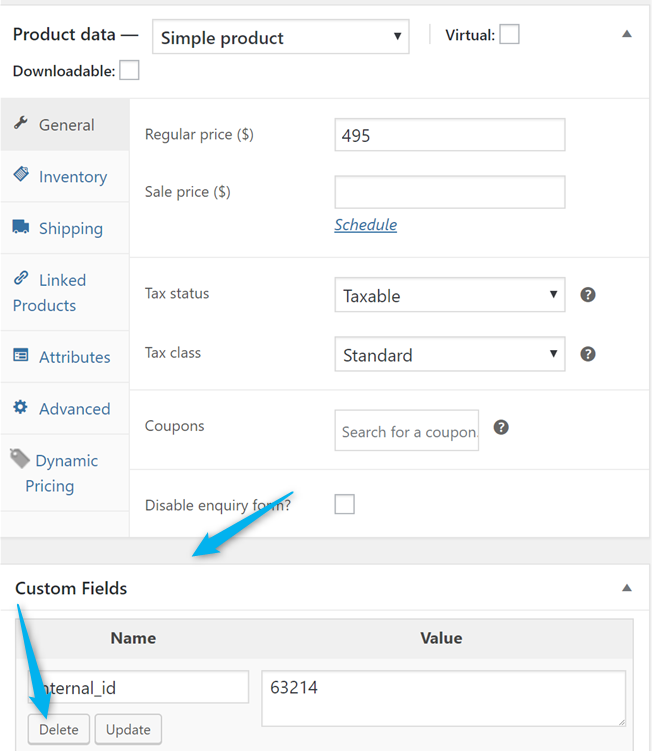 Can't see the Custom Fields Box?
Click on Screen Options in the top right corner of your web page.
Click the Custom fields box if it is not already selected.
Close the Screen Options and you should see the Custom Fields box now.

Click on the blue Publish button to save and publish your newly added product.

Or if you're product is not quite ready to be published, click on the Save Draft button to save in draft mode.